The Ridiculously Easy Way We Ensure Golden Hour Portraits
Have you ever sat down to finalize a timeline for a wedding and realized that the schedule of the day only allowed portraits of the couple during the most unflattering light, or even worse, no light at all? Cue the panic!
In the early years of our business, one of the most common struggles we faced was that we desperately wanted those beautiful, glowy portraits that are taken in the last hour before sunset, but we had wedding days that didn't allow that time. Therefore, our clients didn't have those images in their gallery and we didn't have them in our portfolio!
What we have realized was that clients need their photographer's help early on — before they even set their ceremony time ­— to make sure their day allows for the best portraits around. Your clients want exactly what you want: gorgeous, light-filled shots of irreplaceable moments. They are ready to comply, but they need your help!
That's where this information comes in!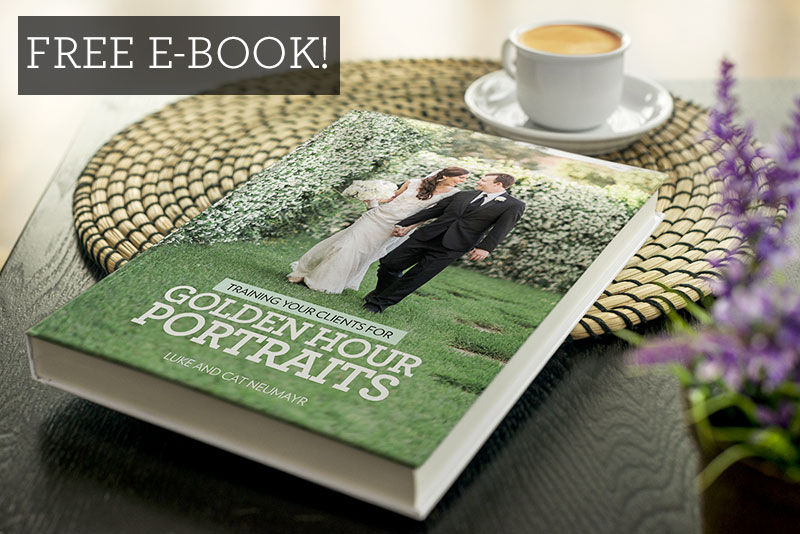 Sign up for our list and receive our new e-book, Training Your Clients for Golden Hour Portraits, as a free download and our gift to you!
This free resource is an excerpt from our 74 page Luke and Cat Bride Guide that we use to educate our clients, resulting in an incredible experience for both us and them. Pay close attention to the powerful, strategic verbiage throughout, and start sharing this information with your clients early on so that you can have the time that you need. Happy shooting!
Learning & Creating, (2 Secrets to Success for Any Photographer!)
Luke & Cat