WPPI :: 5 Tips for The Best Experience
I can't believe this time last year, WPPI was already finished! It's hard to believe it's been over a year since we were in vegas.

In just over a week 16,000 of us photographers will convene in Las Vegas again. As photographers, this is one of the highlights of our year, and I couldn't be more excited for this years trip.

I wanted to give a little recap of our experience last year at WPPI to hopefully help someone out who might be a first timer this year. Last year was actually our first time to go, and we knew nothing. I'd been to Vegas several times, but never to WPPI. I didn't know what to wear, what to bring, or what to expect.

So here's some TIPS that I can share from our experience :)

1) Wear COMFORTABLE SHOES!

I really can't stress this enough. The conference center itself is really big, and the hallways will seem reeeeeeealllly long if you're not wearing comfy shoes. Not to mention, if you're staying at the MGM Signature Towers (which is where most people stay) you have a long walk to even get to the convention center. See the two areas circled in yellow below: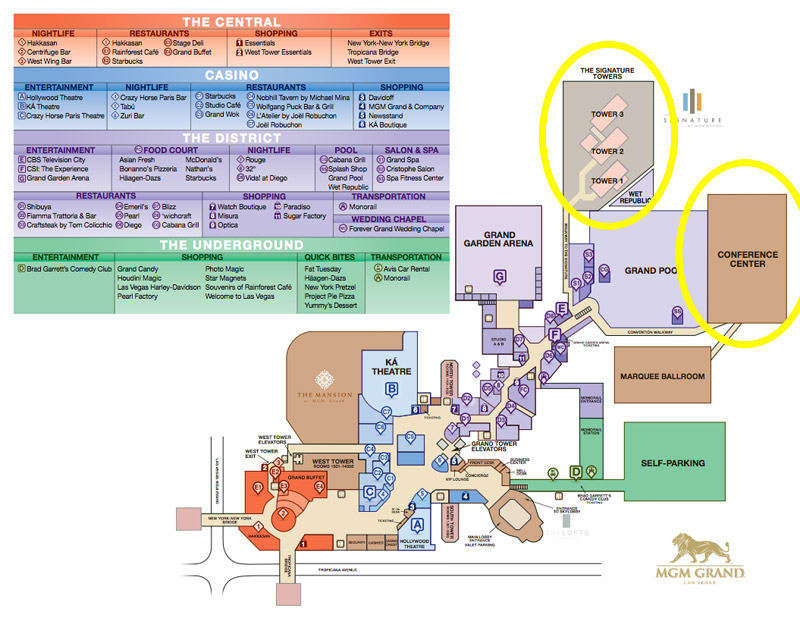 Don't be fooled by their proximity on the map. The walk is long. The plus to the walk is that while you're walking there are moving sidewalks ("Look at me, I'm the bionic woman!" See video -
go to 35:06
) and you'll be seeing people left and right that you recognize.
That was the best part of the walk - the people you would pass. For example, I remember meeting our now-friend
Christina Wall
(an incredible New York based senior and boudoir photographer) at the entrance to one of the moving sidewalks. She stopped me and said she recognized my haircut from Showiteers (a Facebook group for photographers who use the same website platform.) You'll also pass some 'celebs' in the photography world... so that's pretty exciting!
2) Figure out what you're going to eat...
...because in-suite dining will cause you to go broke.
If you're staying at the MGM Signature, depending on what Tower you are in (we were in 3) you are going to be a little bit of a walk from any restaurant. This was the hardest part of WPPI for us! We would go the trade show, or to the convention center to hear a keynote, then we would take the loooooong trek back to our room, and wouldn't want to leave again to go get lunch or dinner. It would either involve another long walk, or it would involve getting a cab and going somewhere else. The MGM Signature doesn't have any restaurants in close proximity.
What we ended up doing almost every day at some point (usually breakfast or dinner) was order from the in-suite dining. It was dangerously addicting. They would bring a table in and set everything up like it was your own private restaurant. The food was very tasty and beautifully presented. The problem was that it was just very expensive. 'Expensive' like we may as well have been eating at the fanciest steakhouse in town.
Since the MGM Signature rooms have a mini-kitchen in them, a lot of photographers go grocery shopping as soon as they get to Vegas. I just couldn't bring myself to do this. Cooking in a hotel room just isn't my thing.
That being said, this year we aren't even going to stay at the Signature. Call me crazy, but I like my Vegas like I expect it (on the strip, bright lights, casinos, great restaurants)... so we're staying at
Aria
, our favorite hotel on the strip. We only have 1 'class' on the agenda per day, so we figure we can get a cab over to the convention, or we can plan early enough if the weather is nice to walk. If we're wearing comfy shoes of course. :)

3) Be ready to meet a lot of people.
That's the main thing to do at WPPI. You never know who the person might be that sits by you in a keynote, or rides in an elevator with you, or stumbles getting off the moving sidewalk in front of you. Photographers *love* to network, and while there are a few bad apples who will be snobby or standoffish if you say hello, mostly every photographer we encountered last year was down to earth and someone that I wanted to be friends with. A few stand-out moments for me include riding on an elevator with Connecticut wedding photographers
Justin and Mary Marantz
, sitting beside my now friend, Indiana's
Micala McClain
during Jasmine Star's keynote, and having
Sarah Crowder
from Missouri come up to me during Zach and Jody's keynote saying that she followed me on Instagram and wanted to say hello.
I finally got to meet Kelly Moore Clark, who is a good friend of our photographer friends Millie Holloman and Lauren Clark. One of my favorite parts of WPPI was standing at her booth for
Kelly Moore Bags
and visiting with her entire posse for a few hours. In that group, I met and became friends with the amazing stylist,
Brandi Brownlee
(the namesake of the B-Hobo bag, and the Pioneer Woman's hotter twin), fearless Mississippi wedding photographer
Robby Followell
, whose work is such an inspiration, Robby's adorable wife Jessica, and my favorite Instagram hashtagger of all time, Taryn Davidson (
@lipgloss_and_laundry
on Instagram.)
These are all people who weren't even in my life a year ago. I can only imagine who I might get to meet this year.
So, give lots of hugs. When you recognize someone, say hello. You never know who you might bump into that will turn out to be someone you really hit it off with.

4) Go to the tradeshow with a budget.

There's a ton of goodies at the tradeshow. Gadgets, bags, album companies, labs, lights, the list goes on and on. Go with a budget, and choose to buy stuff that you really need. Last year we bought a Think Tank rolling bag and it has been used at every single wedding since then. We've got our money's worth.

I don't really think you'll find a lot of great discounts at the tradeshow, but it is a nice time to actually put your hands on stuff you might have only seen online. Actual camera gear like bodies and lenses aren't going to be significantly cheaper than what you've seen online.
5) MOST IMPORTANT: Take notes, and leave with a game plan.

It's not all about the people you meet, the food you eat, and the stuff you buy at the tradeshow. I truly believe the most important part of WPPI is the things that you learn that you can implement into your business to make yourself have a better chance of success.

If you look around the bigger keynotes, there will be 100s of people who are sitting there listening to the same talk as you. I have to ask myself what percentage of these people will actually take what they learn and put it to use. I'd venture a guess... not many.

Last year there were lots of things that we learned at WPPI that, I can honestly say, 1 year later - were game changers. Decide what the main takeaways are for you and leave Vegas with a gameplan for how you can put them to work in your business.