Big Love, Bright Lights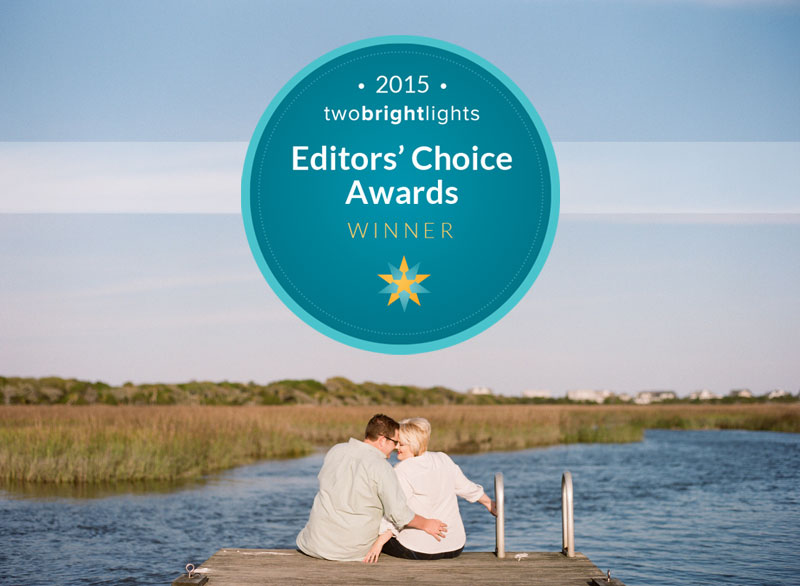 It's no secret that we work with the best people in the wedding business. From stunning brides to outstanding vendors, we understand that it takes a village to make the dream of a fairytale wedding come true.
That's why, when we were learned that Two Bright Lights named Luke & Cat Photography as 2015 Editors' Choice Award Winners, we couldn't just hide the honor away in our scrapbook or bury it in our blog. Instead we blushed, thanked the heavens, and swore we would share the love (after popping a bottle of champagne, of course). Now that we've got a glass of bubbly in hand, we want to raise it to the people who made this award possible—you!
The Editors' Choice Awards honor Two Bright Lights' members whose talent was continually recognized by top publications. For us, this year included places like The Knot, Burnett's Boards, and My Wedding, to name a few. Two Bright Lights is a vast organization, home to over 40,000 photographers and event professionals from over 100 countries. Winners of the Editor's Choice awards represent the top 5% within the community, which, according to some, makes the odds of winning as slim as kissing a frog who transforms into a prince.
We know better. True love and happily ever after are our specialties, at home and at work. We owe our success to each other (marrying your best friend is great, but running a business with that person is even better!) and to the community of people we work with every single day. From the brides who trusted us to capture their memories, to the vendors who set the stage, we want to say thank you from the bottom of our hearts. This award doesn't just belong to Luke and Cat Photography—it belongs to all of us! (But we hope you won't mind if we keep it safe here at the ranch.)
Here's to doing it again next year!
Lindt truffles & Cristal,

Luke & Cat