What Once Was
Just a few days ago, our family (all 7 of us) loaded up on the Kawasaki Mule to drive through the ranch and survey the damage from the storms. Most of the roads had water over them, and more than a few times we all thought we were stuck in the mud. While on the drive, we spotted one of the casualties - our Cypress tree had fallen victim to the previous night's lightning show. Majestic and beautiful - in a ranch that spans thousands of acres, it had always stood out in a sea of Live Oaks and Pecans as the only of its kind.
Several years ago we took some bridal portraits and it was in the background. And now, it's gone.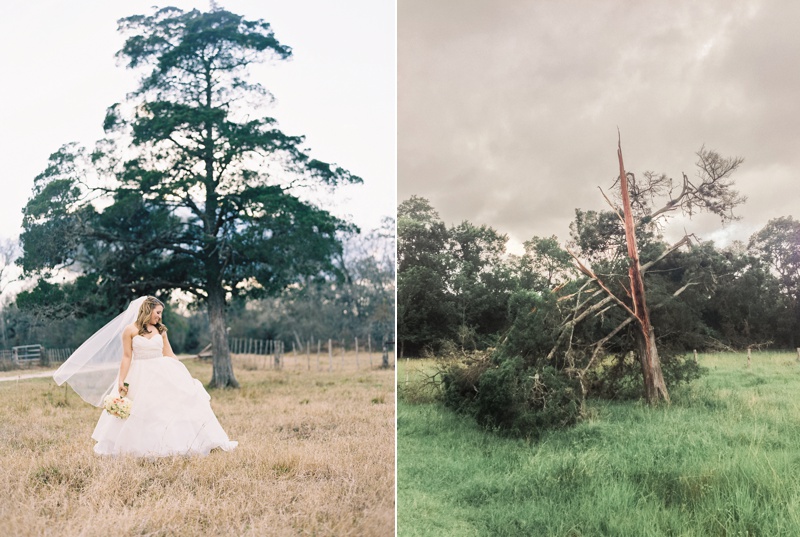 Friends, the weather here in Texas has been rough this spring. We've had more rainy days than sunny days, spent our mornings clearing downed tree limbs from the yard instead of drinking coffee, and frequently questioned our decision to save a little money and skimp on the four-wheel-drive when we bought our SUV.
As it relates to our business, our engagement sessions are all shot outdoors on our beautiful Texas ranch. If Mister Golden Sun is our lighting guy, think of Mother Nature as the one in charge of our set dressing. And Mother Nature has been going a little avant garde for our tastes! We've spent a lot of time rescheduling this spring - so much so that not one single shoot has actually happened on the scheduled day we chose.
I saw a graphic floating around on Facebook saying that it's been raining in Texas every since Blue Bell stopped producing ice cream - coincidence?
Looking At The Forecast & Craving Sunshine,
Luke & Cat